Transform Your Smile, Enhance Your Life
Your orthodontic experience should be comfortable and convenient while giving you the best possible results. At Leland Orthodontics, you'll find a team of friendly, detail-oriented specialists who care about you, so you can trust that your satisfaction is the top priority.
From the moment you step into our Reno office, you'll feel like part of our family — and like a family, we'll walk with you through every stage of your smile journey.
Board-Certified Orthodontist
Dr. Leland is a board-certified orthodontist, a distinction held by only 33% of orthodontists in the country. This certification means that Dr. Leland completed additional hours of training to go above and beyond the industry standards.
A board-certified orthodontist is an orthodontist who has voluntarily gone through the process of demonstrating their judgment, skills, and knowledge to their orthodontic peers to ultimately provide the highest level of patient care. They have achieved board certification through the American Board of Orthodontics, the only orthodontic specialty board recognized by the American Dental Association and in affiliation with the American Association of Orthodontists.
You can feel confident that your smile is in good hands at Leland Orthodontics. Our team is compassionate and always puts you first. Dr. Leland stays up-to-date with the latest treatment methods and technology to provide the Reno community with expert orthodontic care.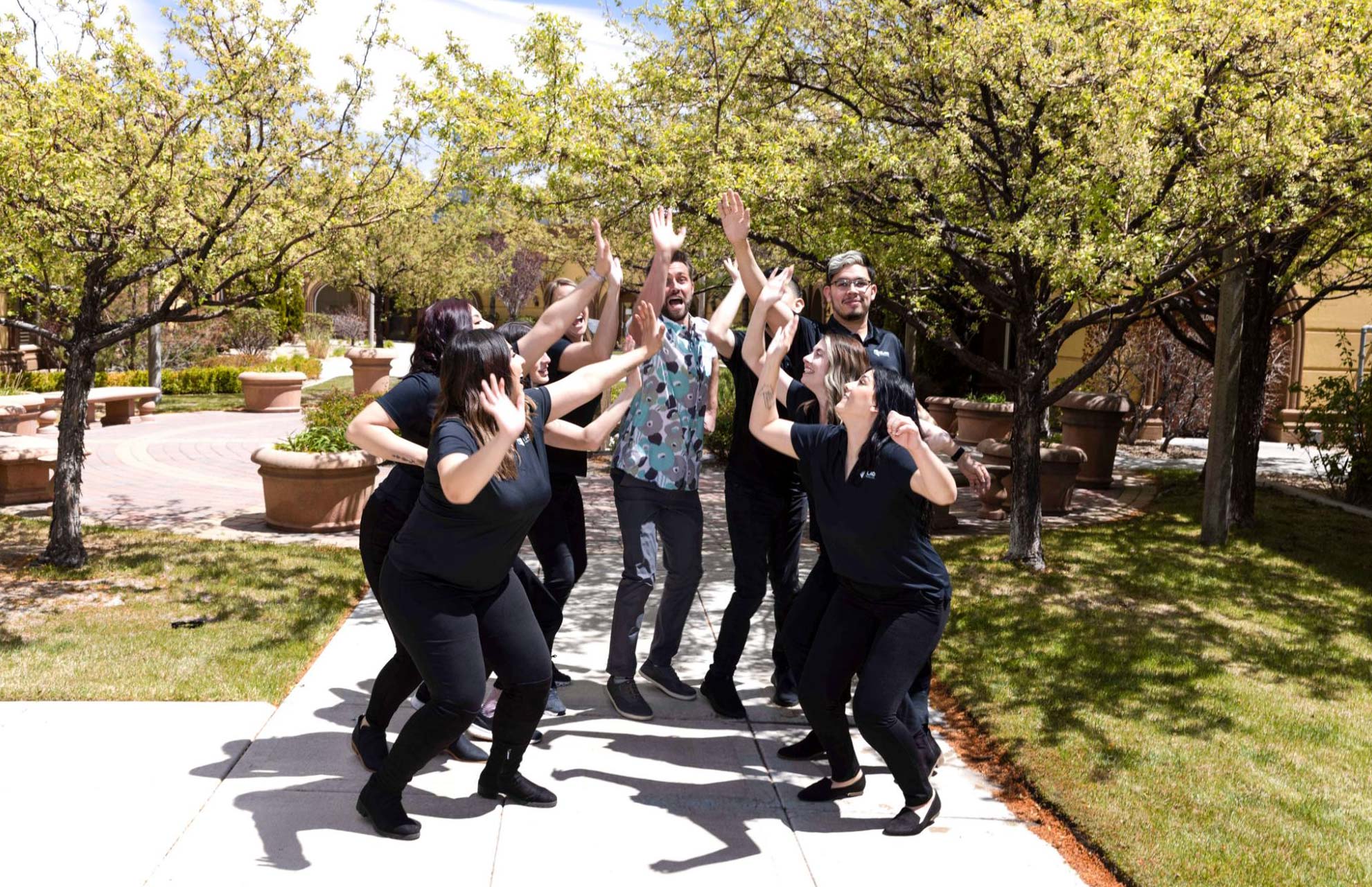 Personalized Service
At Leland Orthodontics, we treat our patients like we would treat our own families. That means our supportive Reno team works passionately with you to reach your smile goals.
You'll always get honest treatment plans from Dr. Leland along with an explanation for those treatments. Whether you're seeking aesthetic treatment for cosmetic enhancements or Phase 1 treatment for a child with a crooked smile, our team is available to answer your questions anytime.
When you choose treatment with Leland Orthodontics, Dr. Leland will review your photos, X-rays, and records to find the best way to treat your unique needs. Then you'll choose the type of treatment you want — traditional metal or clear ceramic braces or our in-house clear aligner system.
At Leland Orthodontics, we're always willing to take a little more time to explain our processes. This way, you can understand just how your customized treatment plan will help you reach your smile goals. Because our goal isn't just to give you the smile of your dreams, but to provide you with excellent customer service, detail-oriented care, and stunning results at every stage of your treatment.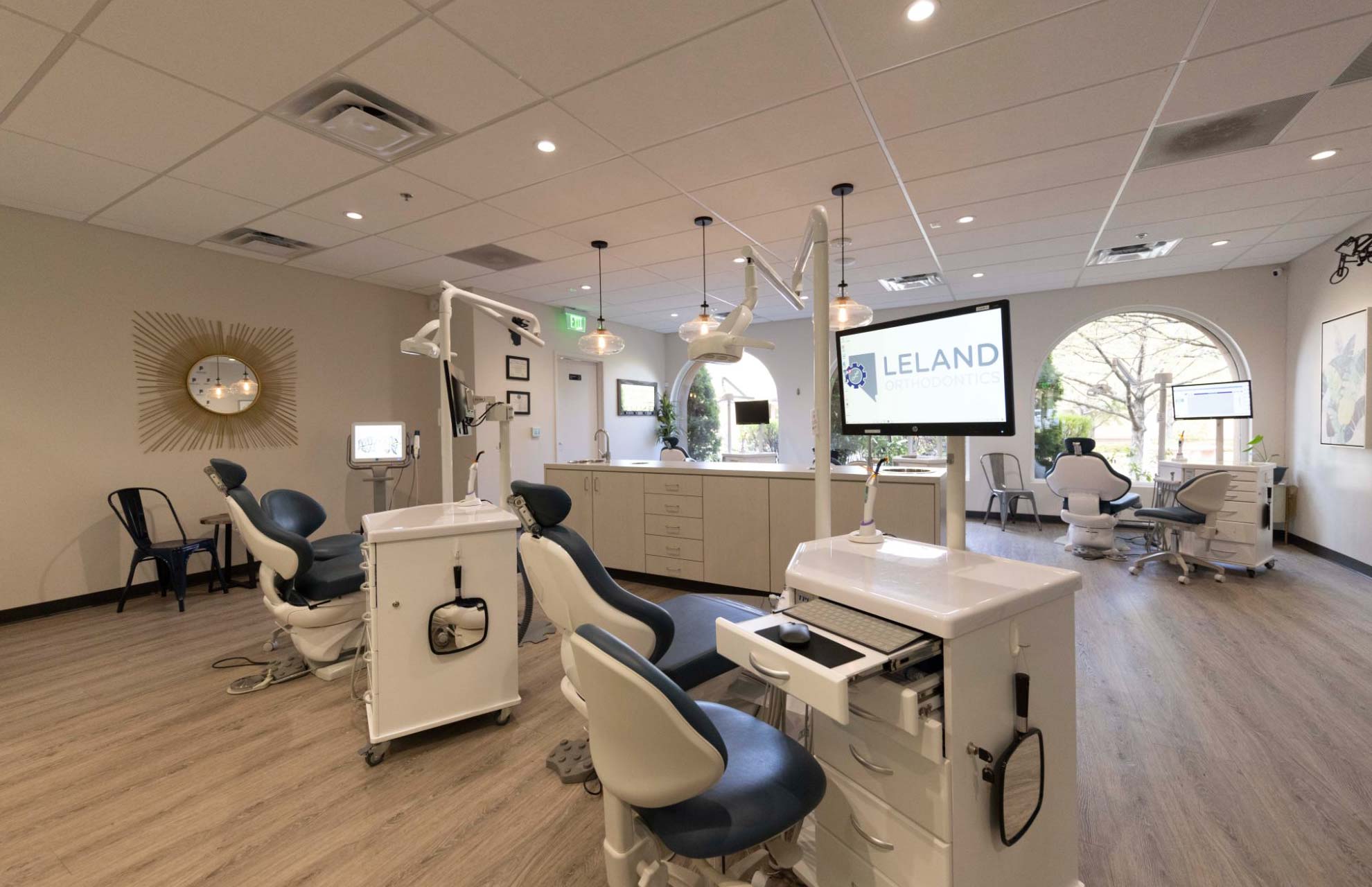 Free Consultation
At Leland Orthodontics, your first consultation is free. This first visit will include digital photographs of your mouth, 3D X-rays to look at what's going on underneath your smile, and a brief, thorough oral exam by Dr. Leland.
At the conclusion of the exam, Dr. Leland will provide you with an initial diagnosis and a customized treatment plan that will best benefit your smile. You can even choose to begin your treatment on the same day as your free consultation — and receive a FREE electric toothbrush for doing so!
And for beginning their smile journey, kids receive a FREE Yogurt Beach card after their braces bonding appointment.
High-Tech Treatments
Dr. Leland takes pride in making the process of straightening your teeth as comfortable as possible. With the latest in braces and clear aligner technology, your orthodontic treatment will be a breeze.
At Leland Orthodontics, we offer the latest in cutting-edge technologies, including 3D X-rays, digital scanning (no goopy impressions!), and in-house 3D printing (precise, super fast clear aligners and retainers!). So you not only get a more accurate diagnosis and treatment plan, but you also enjoy the highest level of comfort available.
Flexible Payments
At Leland Orthodontics you'll find numerous financing options to fit your budget, including in-house 0% payment plans, Care Credit, and pay-in-full discounts! Based on Dr. Leland's treatment plan, we'll work with you to find the best option for your needs at your initial exam.
We also accept dental insurance! When you provide your insurance information before your first visit, we'll check on your insurance benefits before you come in for your exam. If your policy has orthodontic coverage, we'll even file any claims on your behalf.
Convenient Location
Your life is busy and your time is valuable. Our Reno office was designed to meet you where you are. At Leland Orthodontics, high-quality orthodontic care for all ages is conveniently located within reach of your home, work, or school.
Our modern office features cutting-edge diagnostic and treatment systems for exceptional orthodontic results and comfortable care. Enjoy complimentary Wi-Fi, a refreshment bar, a comfortable reception area, and a beautiful treatment space.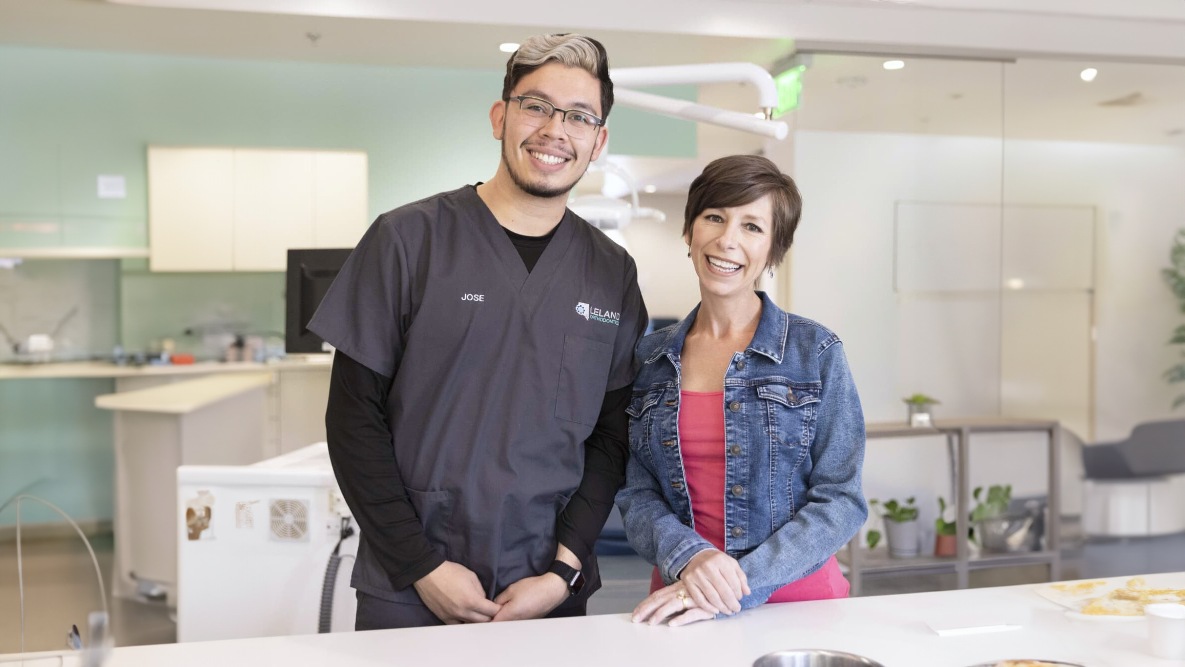 Smile for Life Retainer Program
We know the work doesn't end when your braces come off or you take out your last aligner. You should have care that lasts just as long!
That's why Leland Orthodontics offers our Smile for Life program. For $599, you'll receive free replacement retainers for 7 years following your final treatment. The Leland Orthodontics Smile for Life retainer program guarantees that your beautiful smile lasts for the long haul.
Start Your Treatment the Same Day
The orthodontic treatment process involves a series of visits to Leland Orthodontics. We value the relationship that we will build with you and your family throughout that process and Dr. Leland wants you to feel confident that you're receiving the best orthodontic care possible.
Once you feel like we've answered all of your questions and concerns at your free consultation, you can start your treatment at Leland Orthodontics the same day!
When you choose to start your treatment the same day as your consultation, you'll receive a FREE electric toothbrush. Kids also receive a FREE Yogurt Beach card after their braces bonding appointment.
Dr. Leland will do everything to get you started with treatment at your first visit because we know your time is valuable.